EXPANDABLE POLYSTYRENE
We produce polystyrene raw material to make "packing peanuts"
We are leaders in the production of expandable polystyrene raw material particles. Those particles expands when heated with steam. There are mainly used as a void fill dunnage for packaging.
Expandable raw material SPAN-PACK®
Expandable polystyrene raw material SPAN-PACK® is sold unexpanded. Solid resin particles are expandable because they contain a blowing agent inside.
When heated with steam they expand up to 50 times its original volume creating multitude of microscopic cells. Particles are sold in different shapes to fullfill particular packaging needs.Once expanded we will obtain a low density foamed polystyrene "peanuts"
How it is sold?
Expandable SPAN-PACK® is supplied as unexpanded solid particles packed in 500 or 1000 Kg. cardboard octabins. To slow evaporation of the blowing agent and last longer shelf life the product it is protected with a multilayer plastic bag.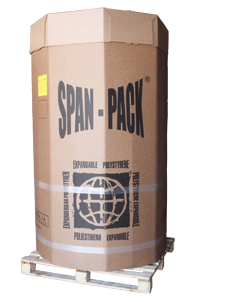 Pallet size is 1100 x 1100 Total high is 1990 to 2190 depending on product reference.
Some interesting features ...
These are some advantages over other conventional packaging materials:
• EXTREMELY LIGHT 99% AIR 1% POLYSTYRENE.
• EFFECTIVE CUSHIONING MATERIAL
• IT ABSORBS SHOCK.
• SECURE PROTECTION.
• LOCKS THE PRODUCT IN PLACE.
• CLEAN.
• BULK DENSITY 3 to 4 Kgr/m3
• EASY TO USE.
• FLOWABLE
• SPEED UP PACKAGING.
• 100% RECYCLABLE.
• REUSABLE
• VERY GOOD RESILIENCE
• ANTISTATIC.
• ODORLESS
• DO NOT ABSORB WATER.
• DOES NOT CHIP. NON-DUSTING
• GOOD INTERLOCK
• DOES NOT SUPPORT BACTERIAL OR FUNGUS GROWTH.
• NON IRRITATING TO SKIN.
• UNAFFECTED BY VIBRATION.
• LOW THERMAL CONDUCTIVITY.
• 65ºC MAXIMUM SERVICE TEMPERATURE.
• NON-TOXIC
• NO CFC´S
• RESISTANT TO MOST ACIDS AND ALKALIS.
• NOT CONTAMINANT
How many octabins we can load in a container
For a 20 ft conainer we usually load 10 octabins 950 / 1000 Kg each, or 20 double stacked octabins 450 / 500 Kg each. In a 40 ft container we can load 20 / 22 octabins of 1 Ton each. Some high cube containers can fit 24 octabins. Pallet size is 1100 x 1100 mm. We request a minimum 12.5 m. length trailer for road deliveries.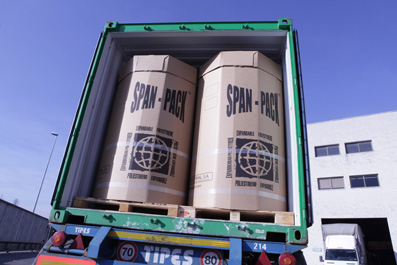 Expandable polystyrene (EPS) is classified as a 'hazardous material' under UN Transport of Dangerous Goods Model Regulations. Described as "polymeric beads, expandable, evolving flammable vapour, UN2211, Class 9, Packaging Group III"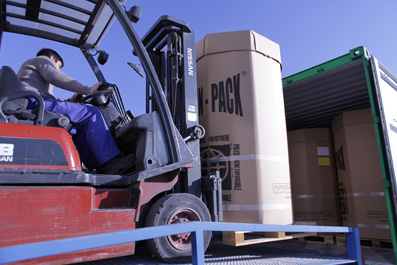 SPAN-PACK Loose-fill facts
Secure - Cost effective - Light - Flowable - Clean